Ethics In Lactation: Framework, HIV/AIDS, and More!
11/15/2023 12:15 PM - 05:30 PM PT
Admission
$100.00 - Early Bird Registration For Non-Members
$120.00 - General Registration For Non-Members
Summary
Ethics Webinar Series Part 2 of 2
Featuring 3 Presentations
3 Speakers

Can't attend the live event?
Register today & receive a link to the recording within 1 week from the live event
Description
4.5 E-CERPs & 6 Contact Hours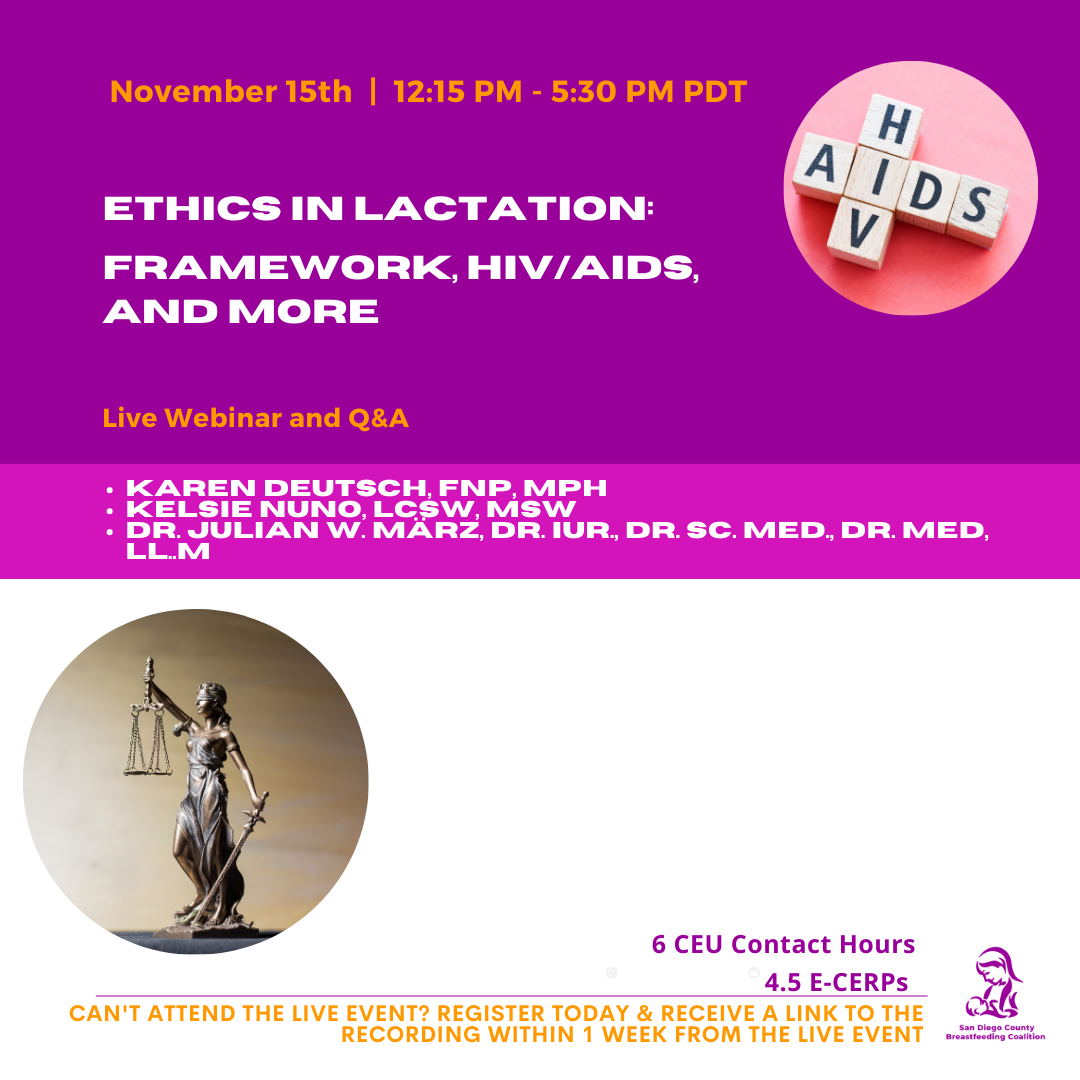 ---
Presentation 1: EFBRI: An Evolving Ethical Framework Informing Breastfeeding Research and Interventions (90 Minutes)
---
Presentation 2: HIV and Infant Feeding: Updated Guidelines for 2023 (90 Minutes)
Speakers

Karen Deutsch, FNP, MPH. Nurse Practitioner, UCSD Mother, Child and Adolescent HIV Program

Kelsie Nuno, LCSW, MSW. Medical Social Worker, UCSD Mother, Child and Adolescent HIV Program

Description

Karen Deutsch, NP and Kelsie Nuno, LCSW from the Mother, Child and Adolescent HIV Program at UCSD will be presenting the 2023 updates to the Infant feeding guidelines for people living with HIV. We will discuss the UCSD effort to integrate the new recommendations into current policies and procedures and we will give examples of our patient experiences thus far. We will highlight the successes and challenges that our patients have encountered as well as questions/concerns that have been expressed by care teams. We hope to leave the attendees with tools and support resources to aid them in referrals and decision making.

Objectives:

Present the updated Breast/Chestfeeding information from the 2023 Update to the Perinatal HIV Clinical Guidelines

Discuss best practices for shared decision making

Discuss UCSD policies and procedures and how they may be used to guide other community partners

Discuss the ethics around HIV and Breast/Chestfeeding in the US and globally
---
Presentation 3: TBA (90 Minutes)
Description: Coming Soon!
Download the Flyer
Target Audience: Advocates, CLE / CLES / CLECs, Community Members, Doulas, IBCLCs, Midwives, Occupational Therapists, PA/NPs, Peer Counselors, Physicians, Public Health Practitioners, Registered Dietitians, Registered Nurse (RN)s, Ot
---
---