Culturally-Based Engagement & Support for Native Hawaiian & Pacific Islander Families
08/17/2023 12:00 PM - 02:00 PM PT
Category
Clinical Skills
Admission
Summary
Our three speakers will discuss modern cultural social practices of our NHPI people and how understanding these social practices will help you better engage and learn how you can support our people in the prenatal and postpartum period and with lactation. We will "talk story," meaning we will engage together and learn through sharing stories about how NHPI interact within and outside of the family.
Description
Live Webinar Celebrating
Asian American, Native Hawaiian, Pacific Islander Breastfeeding Week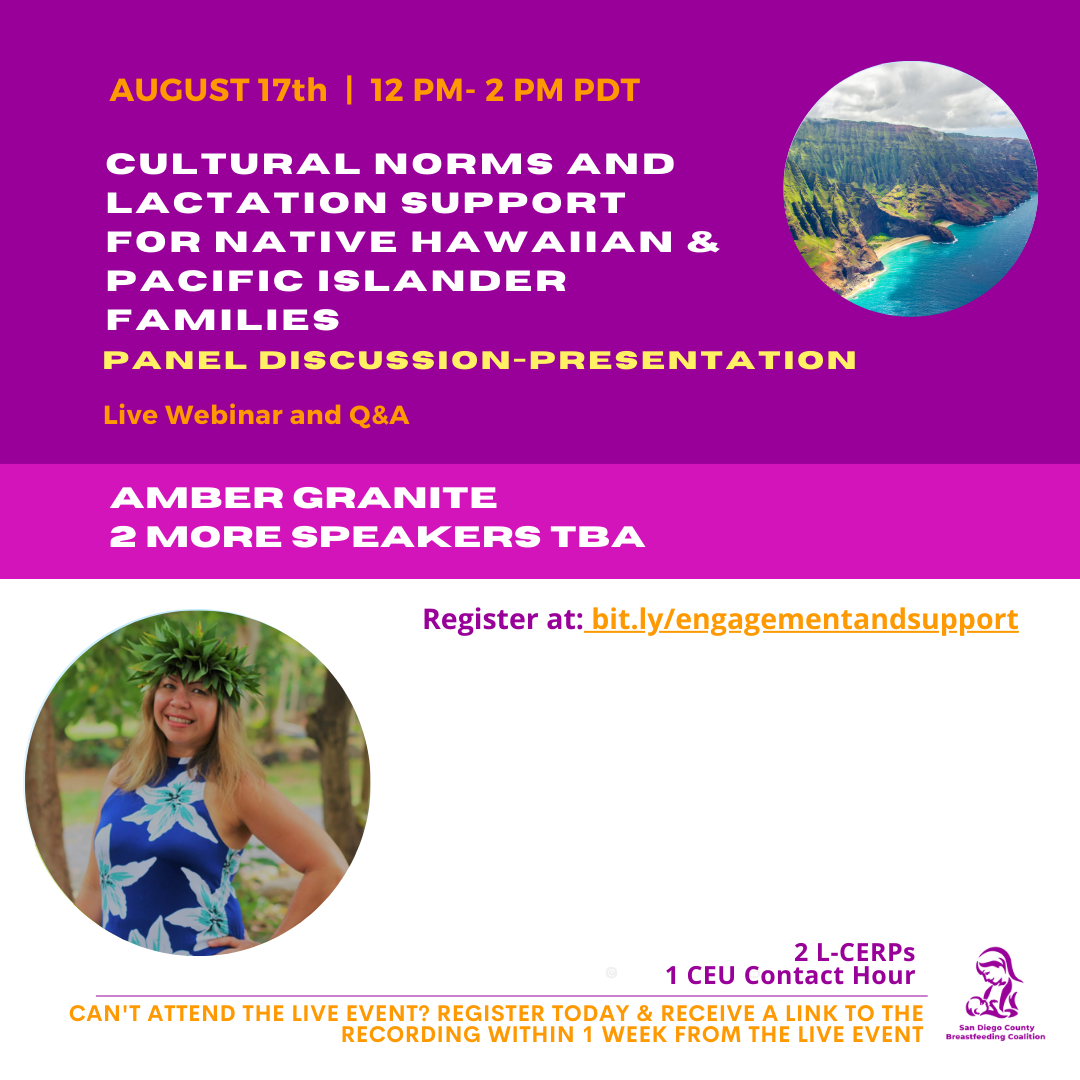 Our Speakers
Amber K.E. Granite, IBC, GPCE

Aloha mai kākou. My name is Amber Kapuamakamaeokalani Estelle Granite. I am from Kailua, O'ahu, I have 4 children, ages 7-15. I started my work in breastfeeding as a WIC breastfeeding peer counselor at the Waimānalo Health Center. Sharing and listening to WIC stories has taught me so much about what our local families need to be a thriving community. I am currently a WIC Breastfeeding Coordinator and CPA. I became an Indigenous Breastfeeding Counselor (IBC) after helping to coordinate the IBC training with the Breastfeeding Hawaii Coalition, where I now serve as Board President. This was a 5-day, intensive, native lactation training course and together with our trainers, we awarded 32 women the title of IBC, Indigenous Breastfeeding Counselor. I am also working on my Master's in Public Health at the University of Hawai'i with a focus on Native Hawaiian and Indigenous Health working to perpetuate culturally-grounded nutrition and breastfeeding education and promotion with an emphasis on integrating Native Hawaiian cultural practices and values.
Target Audience: Advocates, CLE / CLES / CLECs, Community Members, Doulas, IBCLCs, Midwives, Occupational Therapists, PA/NPs, Peer Counselors, Physicians, Public Health Practitioners, Registered Dietitians, Registered Nurse (RN)s, Ot
---
---